Your Step by Step Guide to Build With Knotty Pine Cabins: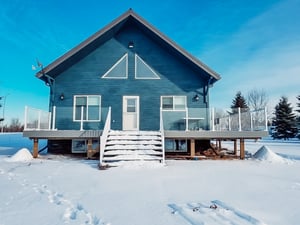 Check Out These 7 Simple Steps to Planning Your Dream Home or Cabin Getaway:
1) Decide how your project will be funded. Do you have personal savings you have been setting aside or are you thinking of financing your build? We have some wonderful information on financing your home or cabin package here. Knotty Pine Cabins works with all lenders to make your build a reality!
2) Determine your build location and cost of the land. If you already have your land, that's a bonus!
3) Are there any architectural or size constraints on what you can build in your municipality? For example, does your home footprint have to be a minimum of 800 square feet or are there rules about what the home must be sided with? Most rural areas do not have many architectural controls; however, some rural subdivisions do. If they require siding other than pine or a mixture of siding materials, Knotty Pine Cabins can help! As far as local and national building codes go, Knotty Pine takes care of meeting all requirements in the design process. Our homes are designed specifically for where they are being built. If a location requires more insulation or a stronger truss system for snow loads, your cabin is designed to these specs!
4) Determine what services need to be brought into the property, if any.
5) Design and price out your custom home or cabin with Knotty Pine Cabins. We make the process easy! For more information on our designing process, click here.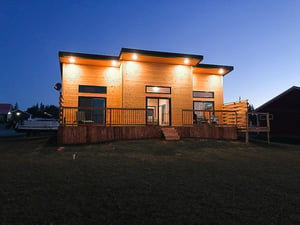 6) Once you have the price of your package, a Knotty Pine representative can help you with a basic budget on items that are not included in the home package. In short, we supply all structural materials including windows/doors and siding. Items not included are your foundation, plumbing, electrical, and fixtures. If you would like to learn more about what is and is not included in our home packages, check out our blog post here.
7) When you are ready to proceed with building the package, Knotty Pine Cabins requires a down payment to be made and, from there, we begin drafting drawings and pre-building for your desired location. Although we can sometimes accommodate short time frames, we recommend booking and committing as early as possible so that we can place you into our build schedule in a timely manner.
Whether you're interested in starting the build process or you're looking several years down the line, please don't hesitate to reach out to us! With over 14 years in business, we have designed everything from small bunkhouses to 3000-square-foot homes. The sky is the limit! Give us a call today at 780.484.2224 and one of our knowledgeable representatives will help you with all of your questions.