Cabin Design Tips From the Knotty Pine Cabins Design Team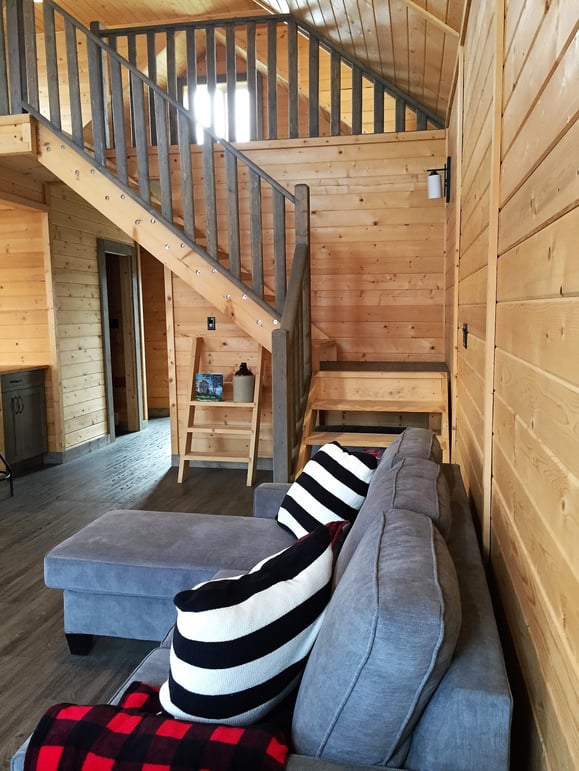 At Knotty Pine Cabins, no two cabins are alike! We pride ourselves on being able to design and build custom homes for each individual customer. There's no such thing as "choosing" a floor plan – you and your family get to work with one of our knowledgeable representatives to design a floor plan that suits your every need.
Designing your custom floor plan can be an exciting process; however, you may find yourself slightly overwhelmed. Whether you're at the office working with one of our representatives or drawing on a scrap piece of paper in the comfort of your home, we've compiled a list of key factors to consider as you work through the design process:
Start with the basics! How many bedrooms and bathrooms do you want? What type of foundation will you be placing your cabin on? Do you want laundry facilities on your main floor? Do you want a deck or a covered porch?
Always keep your land in mind. Consider the required setbacks, the slope of the lot, existing landscaping, future landscaping, and neighboring properties.
Determine what direction your cabin will be facing on your lot. It's important to keep this in mind when determining room placement and, of course, window placement. If you love the sun, having ample windows along your south-facing wall is a must. If you work night shifts or just aren't a morning person, consider placing your bedroom along the north- or west-facing wall.
Consider the flow of the cabin. Does the placement of the rooms make logical sense? Does the master bedroom offer enough privacy? Is there a mudroom or closet close to your main entryway? Are the plumbing and mechanical components in the best possible location?
Don't just build for today, build for the future. If you're worried about accessibility, a master bedroom on the main level is the way to go. If you have a growing family, an open-concept loft with ample area for extra beds may be a good option.
The sky is the limit when it comes to designing your custom home! If you're having a tough time getting started, give us a call toll free at 1-877-854-2224. With a little bit of guidance, designing your Knotty Pine Cabin is sure to be an exciting, rewarding, and stress-free process!