Your Knotty Pine Cabin Package: What's Included?
This is one of the most popular questions we receive during our daily interactions with customers. Knotty Pine Cabins is the perfect fit for clients that are willing to take on the role of general contractor with the added ease of our unique prefab system. We offer a great alternative to building for the budget-conscious customer, as our cabin packages are broken down into individual kits for your convenience. This means that you can have us supply as much or as little as you wish for the structure of the cabin. Read on to discover what's included in our home and cabin package and what is additional.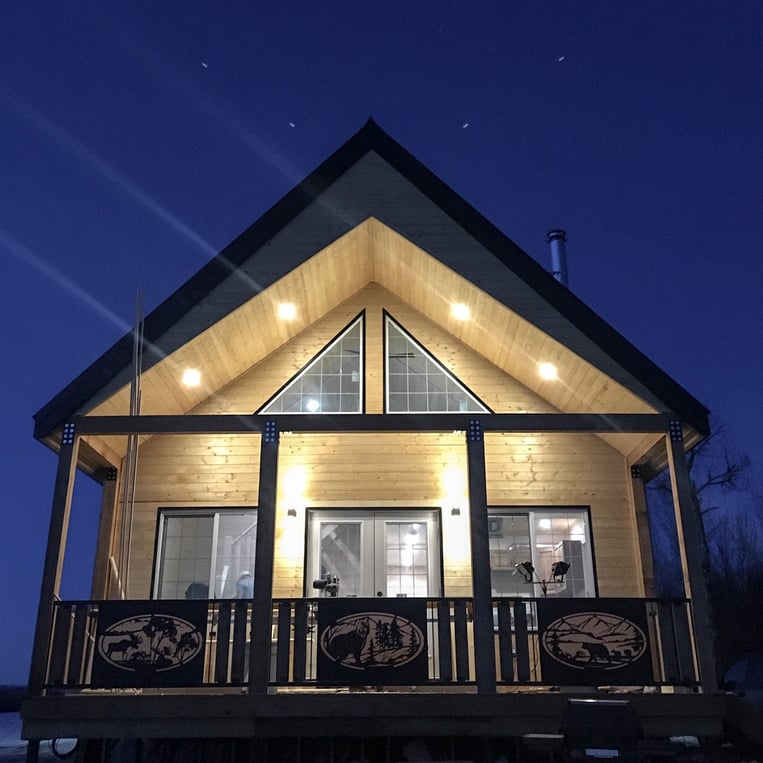 At Knotty Pine Cabins, we start with a base cabin package. From there, we allow our customers to add some of our optional kits to build a more complete cabin package. Why, you might ask? We truly believe that each customer and cabin is different! If there are certain items that you don't require or wish to supply yourself, we can easily accommodate that. This allows our customers to use our cabin packages for a variety of purposes – seasonal cabins, year-round cabins, primary residences, garages, bunkhouses, hunting cabins, and more!
Items Included in the Base Cabin Package:
Pre-framed 2"x6" exterior walls shipped in 8' sections, on average
Engineered roof trusses designed with consideration of the local snow and wind load
½" plywood sheathing for the roof
Ice shield and roofing felt
Metal roofing, fascia, flashing, and soffits
Homewrap
Kiln dried 2"x6" tongue and groove pine siding
One 36" fiberglass door
Two 40"x40" triple pane low E Argon slider windows
Hardware & screws
A thorough construction manual
Build the Cabin Package That Suits Your Needs by Adding Some or All Our Optional Kits:
Floor kit – The structural components of your floor system
Floor & roof insulation kit – Fiberglass batt insulation for your floor and roof (R-value dependent on build location) and vapor barrier
Wall insulation & interior pine kit – Fiberglass batt insulation for your exterior walls (R-value dependent on build location), vapor barrier, acoustic sealant, kiln-dried 1"x6" tongue & groove pine, and pine trim
Loft kit – The structural components of your loft floor system
Stair & railing kit – Handcrafted wood staircase and railings
Deck & railing kits – Pressure-treated wood deck & railings
Interior wall partitions – Pre-framed 2"x4" interior walls, kiln-dried 1"x6" tongue and groove pine to cover both sides, and pine trim
Additional windows & doors – Triple pane low E Argon windows & a variety of different sizes and styles of doors sourced from Durabuilt Windows & Doors
Interior doors – 32" solid pine interior doors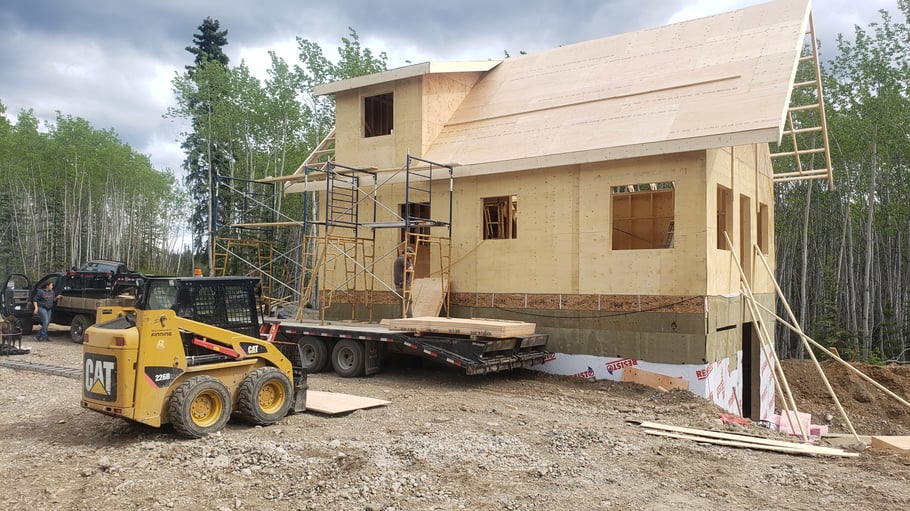 "Do your cabin package include everything to build the entire cabin?" When purchasing the base cabin package and all our options, you will have everything you need to build the structure of the cabin. While you can choose to have us supply everything for the structure of the cabin, we leave certain aspect of the build to trades that specialize in those areas.
This unique approach is where our clients save money on their total build by cutting out the middle-man and getting the best pricing possible by contracting out their own trades. Most of our clients are building their homes and cabins across Canada so it makes much more sense to contract out trades that are closer to their build area.
Items Not Included in Our Home and Cabin Packages:
Foundation
Electrical
Plumbing
Finished flooring
Interior Fixtures
"How do your cabin and home packages arrive? Are they pre-assembled?" While our cabin packages arrive with pre-framed exterior and interior walls, the physical assembly of the cabin would take place on-site. We supply a thorough construction manual and offer over the phone support to both our customers & their contractors. Not interested in assembling the cabin package yourself? We can help! At Knotty Pine Cabins, we have professional installation crews that work all over Alberta and Saskatchewan. Sit back and watch them build your cabin or home for you!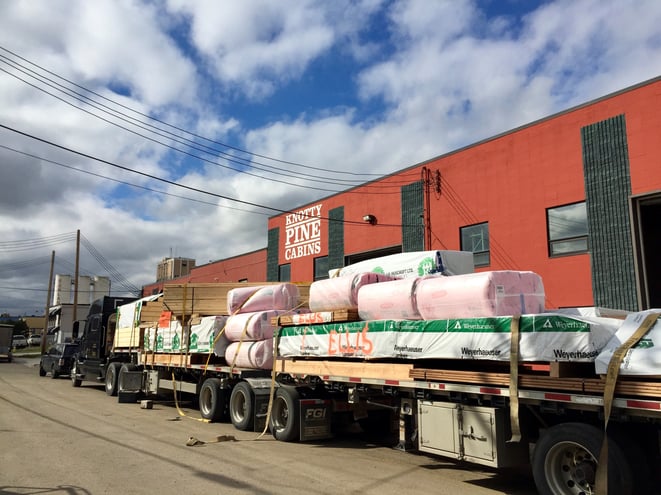 "Can your floor plans be customized?" Yes, our floor plans are fully customizable! We pride ourselves on being able to custom design each floor plan to best suit our customers. Give us a call to discuss floor plan options or check out our blog post on cabin design tips.
Have a question that we haven't answered? Give us a call toll free at 1-877-854-2224 to speak with one of our knowledgeable representatives.