The Simple Life With Knotty Pine Cabins
If you're like most individuals, I'm sure there's been a time or two where you have thought of selling it all and living a more minimalist lifestyle. We aren't necessarily talking about the whole "tiny home" or "tiny living" phenomenon that has swept the nation through reality television, we are more so talking about downsizing and decluttering in order to achieve a more streamlined lifestyle.
Knotty Pine Cabins lends itself to the simple life perfectly! By downsizing, you can spend more time enjoying life with family and friends, getting back to nature, working on hobbies or travelling to new places because you aren't worried about big mortgages and materialistic items that clutter up our homes and landfills.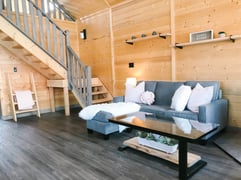 A good portion of our clients already own a piece of land or purchase a piece of property to build their dream home. We have a package to suit every budget and our quality-built product can be constructed by the homeowner or, if a client doesn't have the time or energy, Knotty Pine Cabins can build the home! To learn more about what is included in our packages, check out one of our previous blog posts here.