Client Spotlight – Kurt & Lynn Cole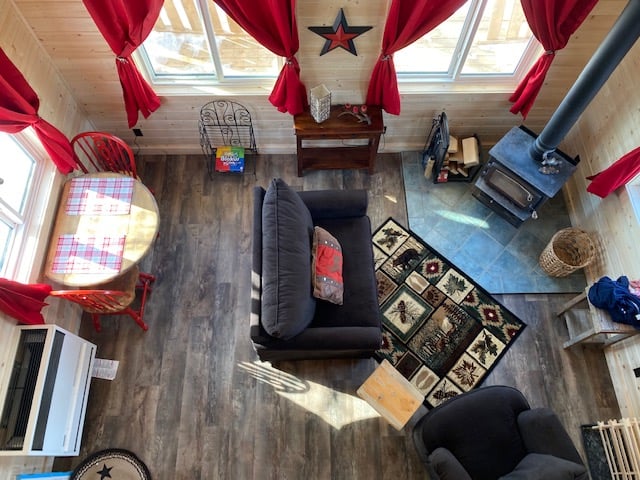 Kurt & Lynn Cole contacted Knotty Pine Cabins in 2019 when they decided it was time to add a guest house to their farm just outside of Coronation, Alberta. Since then, the couple has built a cute 544 sq ft 16'x24' Knotty Pine guest house on their property, within eyesight of their 2,000 sq ft log home. We caught up with Kurt to find out more about his experience with Knotty Pine Cabins.
Q) What Made You Decide to Build a Small Cabin?
A) I grew up in a cabin where I lived, so I spent my junior high years living in a cabin 60 yards from our house, so I was very used to it. When we built our house, we didn't want to build a big house, so we figured we'd build a cabin someday. It was always in the plan to build a small cabin when we built the house.
Q) How Would You Describe the Quality of the Materials & Craftsmanship?
A) When it came, I was flabbergasted. The fact that it wasn't OSB but was plywood, the thickness of the walls, the pine you use on the exterior being 1 ½" thick, how tight and sealed it was, and easy and efficient. Understanding all that is why I strongly suggested that my daughter build her house through you guys, because I've never seen a pre-fab that's built so well. The construction was way beyond what my expectations were.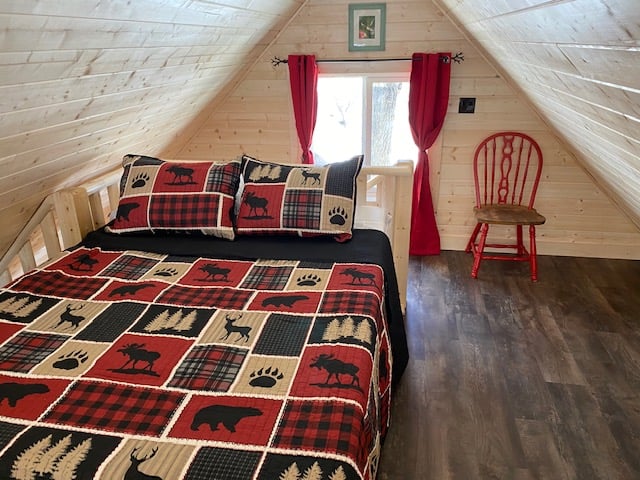 Q) What Would You Say Was the Most Challenging Part of the Process?
A) To be truthful, we really enjoyed the process. Knotty Pine made the process very nice because we could modify the plan. There wasn't really anything difficult about understanding how to put it together – it was all described in the manual. I don't think there was one particular thing that was difficult about the process. Maybe taking the time to make decisions instead of flying by the seat of my pants might have made it a bit better, but we're really happy with the product. In the whole building process, the most difficult aspect was putting the septic tank in since we did it ourselves, but that has nothing to do with the cabin. I guess the most challenging part of the cabin build was figuring out the stairs. We had a difficult corner to deal with and we were trying to decide what we wanted to do with the finish of them, so we kind of made that up as we went along.
Q) Would You Recommend Knotty Pine Cabins to a Friend?
A) Yes, and I have. I give you glowing reports everywhere I go because of the construction of the cabin. Most of the time when you think of a pre-fab cabin, you think of someone that's going to put OSB on the walls and just make the place look nice. The fact that Knotty Pine cares about the construction and builds the cabins to last forever – it exceeded our expectations.
Q) What Advice Do You Have for Anyone That's Contemplating Building a Cabin or House?
A) Take time to figure out what you really want in the end and dream big, then cut it back. Everyone wants everything, but in the end you realize you really just want a cabin. You don't always need to add the 10' deck and the roof extensions, but shoot for the stars and then trim it back to where you're comfortable. You can always build in phases. So if it's a budget thing, build your cabin and then add to it as you have the cash.
---
A special thank you to Kurt & Lynn for taking time out of their day to share their experience of purchasing and building their very own Knotty Pine Cabin.
Thinking of building a guest house on your property? Contact us today to learn more about building and designing your very own Knotty Pine home!