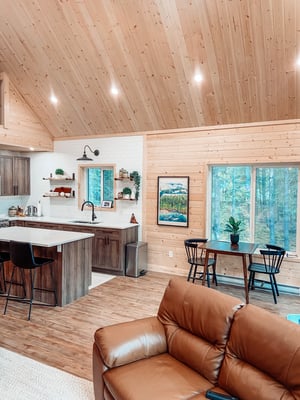 We often get asked if our cabins are suitable for year-round living. ABSOLUTELY they are! Over the last 15 years, many families have made their primary residence a Knotty Pine.  

At KPC we take great pride in our building practices and we meet all Canadian building codes. All of our homes and cabins go through a detailed inspection process and are built to last. To learn more about what's included in our home and cabin packages, read about it here.

Our homes are prefabricated at our Edmonton head office and shipped unassembled across Canada and into the USA. They are all designed with your specific area in mind. There is definitely not a one-size-fits-all approach to the way our homes and cabins are built.  Wind loads, snow loads, and energy calculations for your build location are all assessed no matter where you are building your dream home. At Knotty Pine Cabins, we have built coast-to-coast in even the most remote locations. From off the coast of Labrador, small islands in British Columbia to the Yukon and beyond, we deliver and take care of all these important details so you don't have to!

We build to suit. Whether you are building up North where insulation values are higher or in British Columbia where much of the terrain is rocky, our homes and cabins are a perfect choice! Our product excels amongst the rest at a truly reasonable price point.
Give us a call at 1 877 854 2224 to begin the design process with one of our knowledgeable team members today!