Client Spotlight – Gloria & Rosita – Edmonton Garden Suite
Gloria and Rosita reached out to us in January 2020 to start the process of demolishing their existing garage and creating a cozy 24'x28′ garden suite for Rosita to live in. Here's a look into their process of designing and building their custom Edmonton garden suite with us.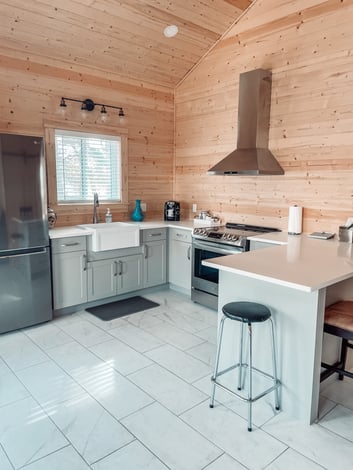 Q) What Made You Choose Knotty Pine Cabins to Build Your Custom Garden Suite?
With the re-zoning for infill in the City of Edmonton, we wanted to build a Garden Suite in our backyard. We contacted Knotty Pine Cabins [KPC] because this company is a locally-owned family business in the City. We were also looking to build a home that was free from toxic materials. KPC cabins are made entirely of quality pine wood construction, both interior, and exterior.
Since our Garden Suite was Knotty Pine's first build in the City, they were very excited and enthusiastic to be involved in our project. With a floor plan in mind, we met with Alana and Andre, owners of KPC, and worked closely with Alana to develop a floor plan to fit our needs. We decided on a 672-square-foot bungalow with a master bedroom, walk-in closet, and den.
Q) How Would You Describe the Quality of Craftsmanship & the Support Received From the Kpc Team?
Throughout the construction, we were impressed with the quality of workmanship, and with the owners and staff at KPC; they were friendly, helpful, and accommodating. We dealt mostly with Alana on this build and she was always available to answer our questions and discuss alternative options. The Knotty Pine Cabin website is very informative regarding the various designs and sizes available, including a breakdown of pricing of the prefabbed packages, and there is a detailed list as to what is included in each package.
Q) What Would You Say Was the Most Challenging Part of the Process?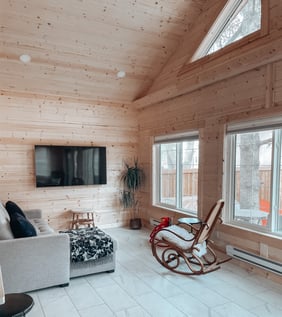 Needless to say, dealing with the City and its numerous bylaws for Garden Suites was challenging. However, Alana was of great assistance and helped us apply for the City Permits. As a result, she became very knowledgeable about the City's regulations and rules, that apply when building Garden Suites in Edmonton. Thank you so much, Alana, and members of your team.
Q) What Are Your Favourite Features in Your Custom Garden Suite?
This is truly a unique build with pine interior walls throughout. Walking into the cabin feels like entering an oasis in the City. It feels very spacious and modern with its 15-foot cathedral ceilings, open floor plan, light porcelain floors, and large windows that bring in lots of natural light. We have had numerous inquiries and much interest in the particulars about the design and the builder. The project is now completed, and the end result is that we absolutely love our Knotty Pine Cabin in the City!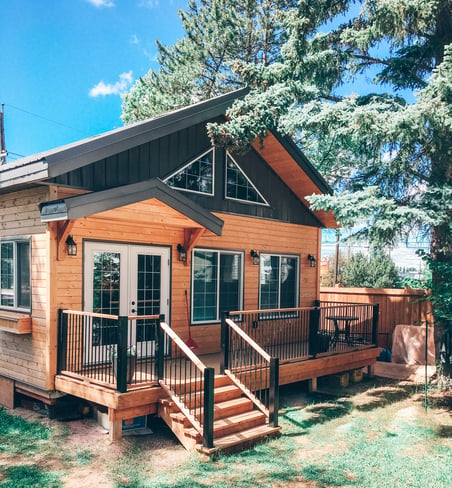 A special thank you to Gloria and Rosita for taking time out of their day to share their experience of purchasing and building their custom Knotty Pine Cabin.
Thinking of building a garden suite on your property? Contact us today to learn more about building and designing your very own Knotty Pine home!