Financing Options at Knotty Pine Cabins
Have you been dreaming of building a weekend cabin or custom Knotty Pine home? Do you find yourself wondering how you're going to fund the full project? Don't let concerns over financing derail your dreams – read on to find out more about financing your Knotty Pine Cabin.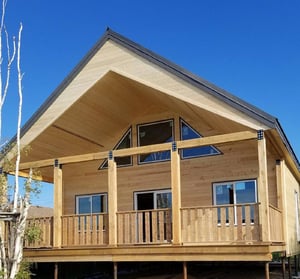 We often get asked whether our homes and cabins can be financed and we're here to say that they absolutely can! If you're looking to build a Knotty Pine year-round home, cabin, garden suite, or guest house, but don't have all of the funds to pay for it out of pocket, one option is a construction loan. This option can be used when Knotty Pine Cabins is building the home to the lock up stage.
What's a Construction Loan and How Does It Work?
A construction loan is a short-term loan used to finance the construction of your new cabin or home. Unlike a traditional mortgage where funds are dispersed in one lump sum, a construction loan disperses funds in draws based on the stage of construction. Prior to funds being released, your lender will have an inspector visit your build site to track progress and, from there, release a portion of the funds based on the completion stage. This allows you to pay your contractors in stages based on work completed.
Once construction has been completed, the construction loan is either paid off or converted to a permanent loan, depending on the type of construction loan you obtain. In the vast majority of cases, our customers obtain a construction-to-permanent loan, where the construction loan is converted to a permanent mortgage with typical principal plus interest payments once the construction process is completed; however, if you're in the process of selling your house and plan to use the proceeds to cover the construction costs for your new home, a construction-only loan could be a better option for you.
Do I Have to Own Land to Obtain a Construction Loan?
While owning land is seen as an asset when it comes to obtaining a construction loan, it's not necessary. Construction loans can be used to both purchases the land and build the cabin or home.
Other Financing Options:
We know everyone has a unique financial situation and construction loans are just ONE of the many options! If you're looking for a short-term loan, a line of credit might fit the bill. You may own your land free and clear and be able to utilize a land draw to finance your Knotty Pine. No matter the scenario, our goal is to help you achieve your project dreams without stress!
Knotty Pine Cabins has a fantastic Mobile Mortgage Advisor that we work with to help clients finance their home or cabin. Our past clients can definitely agree that it makes the financing process seamless when they are dealing with a lender that's familiar with our product and is willing to look at many different financing options depending on your unique situation. Give us a call at 1 877 854 2224 to set up an appointment with one of our knowledgeable sales representatives today!