Client Spotlight – The Ellis Family
The Ellis family contacted Knotty Pine Cabins in 2018 when they decided they wanted to downsize and live a simple life. Within 8 weeks, the floor plan for their new home was finalized and their cabin package was on its way to their lot in Greenwood, BC. The Ellis family was very hands-on throughout the process so it came as no surprise when they told us they were going to take care of the on-site assembly themselves. This wonderful family of 3 now lives in a beautiful 700 sq ft 20'x24′ Knotty Pine home that they built with their own two hands! We caught up with the Ellis family to find out more about their experience with Knotty Pine Cabins.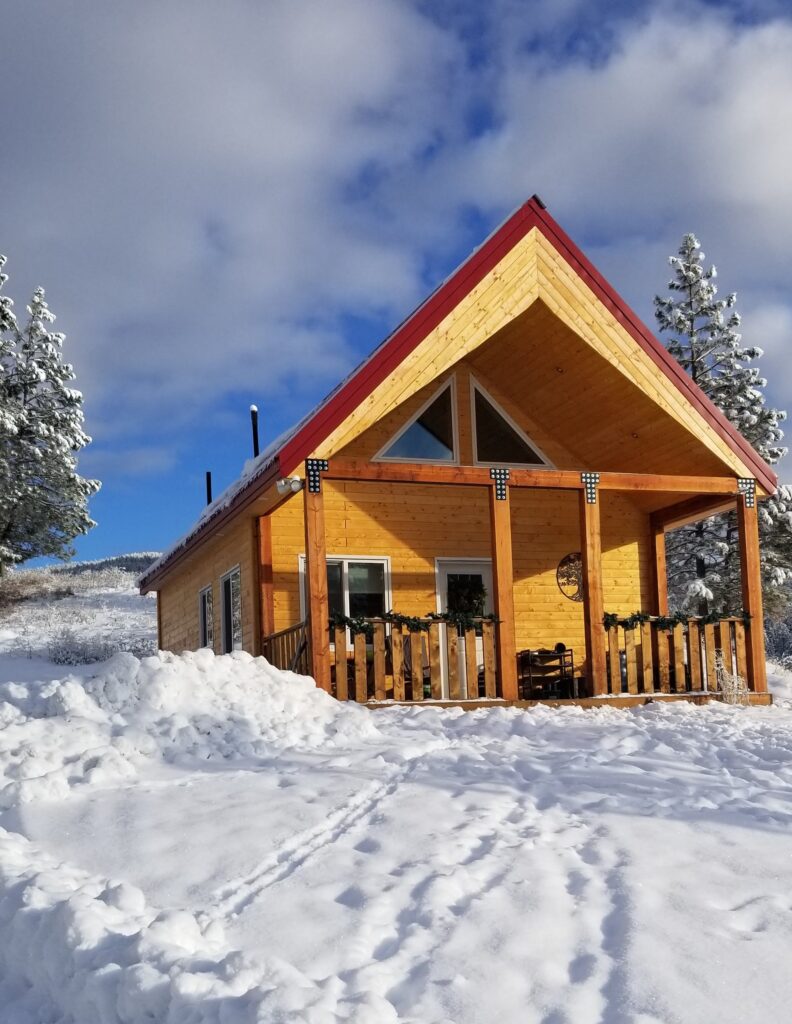 Q) What Made You Decide to Transition From a 2,000 Sq Ft Home in the City to a 700 Sq Ft Cabin in the Mountains, and How Would You Describe the Transition?
A) Our passion for the last 10 years was to live somewhere we could be sustainable, build our own home, and somewhat live off-grid. Here we are, we took the plunge and moved from Fort McMurray Alberta to a beautiful little "city" named Greenwood in BC. We're up 3500 feet living on a mountain with only one neighbor, it's beautiful.
I think we chose to move for a few reasons, firstly we're tired of running the hamster wheel, so to speak. Secondly, we wanted to slow down and spend more quality time doing what matters, time with family, time to grow our food, and time to be together. Lastly, 2016 was the Fort McMurray wildfire, we were evacuated for months from our community, we did not lose our home but had to do extensive repairs. Repairs were made, and we thankfully sold our house for much less than we wanted, but we were ready to build our dream. We had originally bought pricey plans from another company, but then came across Knotty Pine Cabins, they worked with our plans and checked in with us daily. We wanted to stay with a family business, and who better than KPC, we had a really good feeling about this family-run company and decided to build with them.
The process was smooth, as we ordered our windows, and worked with the designer on the layout, what kind of stairs we wanted, insulation, etc. We had never built a home so it was quite the journey, as a family (Including KPC). They were there around the clock to answer all our questions and help us through anything, such as the building permit, flooring, kitchen, and all of it.
Downsizing from a 2000 sq ft home was not easy, we had lived in that house since our son was 11 months old, he's now 13. There were a lot of "how to downsize" pins on my Pinterest board! We did it though, what we didn't need, didn't come. I minimized all my little kitchen gadgets by either selling them or giving them away, the garage contents some came most got given away. Memorabilia I took pictures of, furniture we sold with our house. It's all just stuff, we wanted to move away from having stuff and live minimally, with only what we absolutely needed. We drove from Alberta to BC with only our truck and camper. Do we miss any of the stuff we downsized? We don't!
Q) What Made You Decide to Build With Knotty Pine Cabins?
A) The family feeling we got from them, also the price point.
Q) Describe the Process of Designing and Building Your Own Home. Was It Rewarding to See the Design Come to Life?
A) To see our home, our dream come to life actually brought tears to my eyes some days, we were doing it finally!
Q) Describe the Quality of the Materials and Craftsmanship of Your Knotty Pine Home.your Knotty Pine home.
A) The quality of the pine is amazing, I love seeing all the little knots come out as the years go on. We've been living in our cabin since December 2018 and have not had any issues with any of the materials, I would say the quality exceeds our expectations.
Q) What Would You Say Was the Most Challenging Part of Downsizing?
A) Most challenging was deciding what was essential, what would look good in the cabin, what would we have room for, could we live without it.
Q) In Your Opinion, Was Downsizing to a Knotty Pine Home a Good Choice for Your Family?
A) Downsizing our home, was the best decision we've made for our family. We see each other, in our 2000 sq ft home there was so many rooms that we were not always together. Yes, this has been a challenge to get used to, but now more than ever we are a closer family.
Q) Do Find That You Have More Time for What's Important in Life With Less Space and Clutter to Worry About?
A) We definitely have more time to be outside with our animals and garden. Less cleaning, less organizing, less decorating.
Q) Would You Recommend Knotty Pine Cabins to a Friend?

A) Yes, and we have we will likely be working with KPC for another home on our property, as well as a few little guest cabins. We built our home in three months. While we're still working on little details inside, I'd say that's a quick turnaround. Not bad for a few pipe-fitters, if they can, you can!
Q) What Advice Do You Have for Anyone That's Contemplating Downsizing or Building Their Own Home?
A) Jump in, the journey is so worth the time life gives us!
Q) Is There Anything Else You'd Like to Share?
A) Thanks for being such an amazing team and family Knotty Pine Cabins
---
A special thank you to the Ellis family for taking time out of their day to share their experience of purchasing and building their very own Knotty Pine.
Are you ready to live a simple life? Contact us today to learn more about building and designing your very own Knotty Pine home!