CLIENT SPOTLIGHT- Jeannie in Terrace
Jeannie shares on her experience building her custom 20×28 full time home with Knotty Pine Cabins in Terrace BC.

Q) What made you choose Knotty Pine Cabins to build your custom cabin?
In all honesty, I originally wanted someone local to build me a small house but I couldn't find a contractor; the wait list with all the local contractors was at least THREE years!!! Knotty Pine Cabins offered cabins about the right size, I could customize it way I wanted, and they could start within months!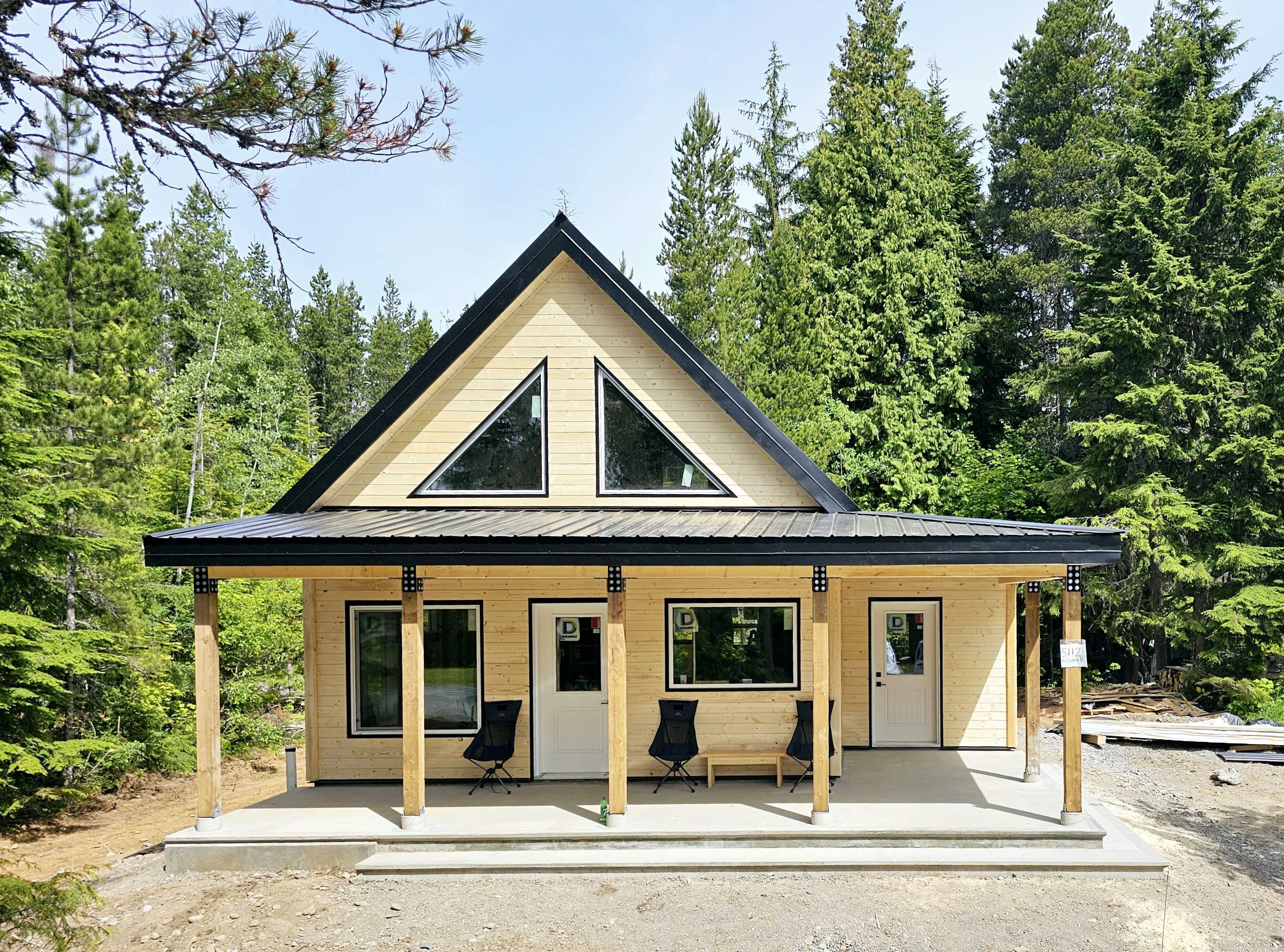 Q) How was your package constructed- Self build? Contractor?
Knotty Pine Cabins Installation Crew constructed the package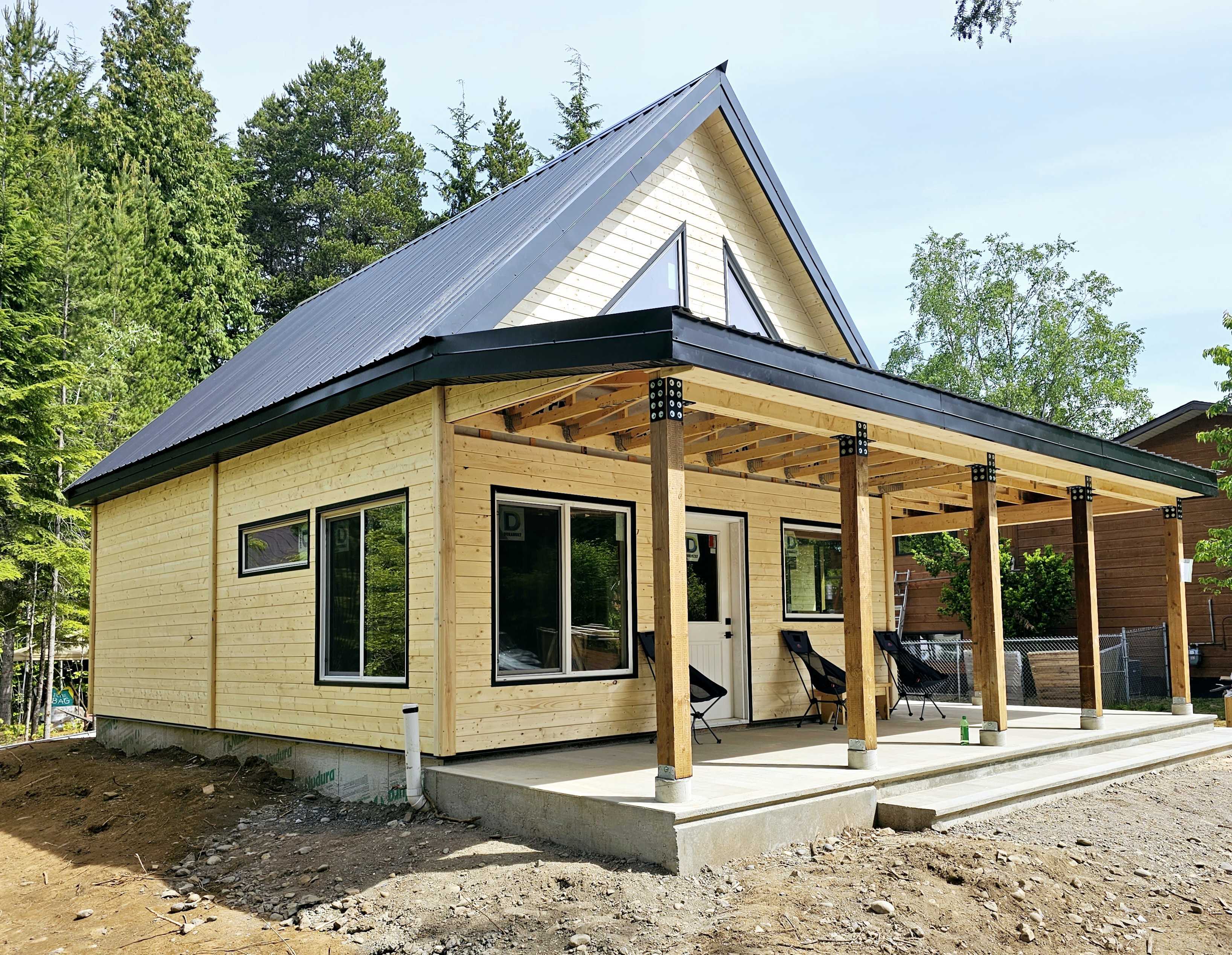 Q) How would you describe the quality of craftsmanship & the support received from the KPC team?
Outstanding. Right from the first phone call, the staff were helpful, supportive and had answers to all my questions. They listened to what I wanted, and gave me great advice. They accommodated changes as they came, and helped me save money.
The building crew guys stayed with me instead of incurring hotel bills… we had a blast. They were polite, respectful, quiet, and looked after themselves. Great bunch of guys and it saved me a lot of money.
Quality. 10/10. Honestly, everything these guys did was first class. The windows and doors were beautiful. (Not budget Home Depot stuff). Can I say that? Lol.
I was shocked to see the thickness of the exterior pine tongue and groove… it's really, really nice stuff. Again, way nicer than I was expecting.
Craftsmanship. The guys were experienced and skilled builders. I'm super happy with everything.
Oh, and they're fast. 😊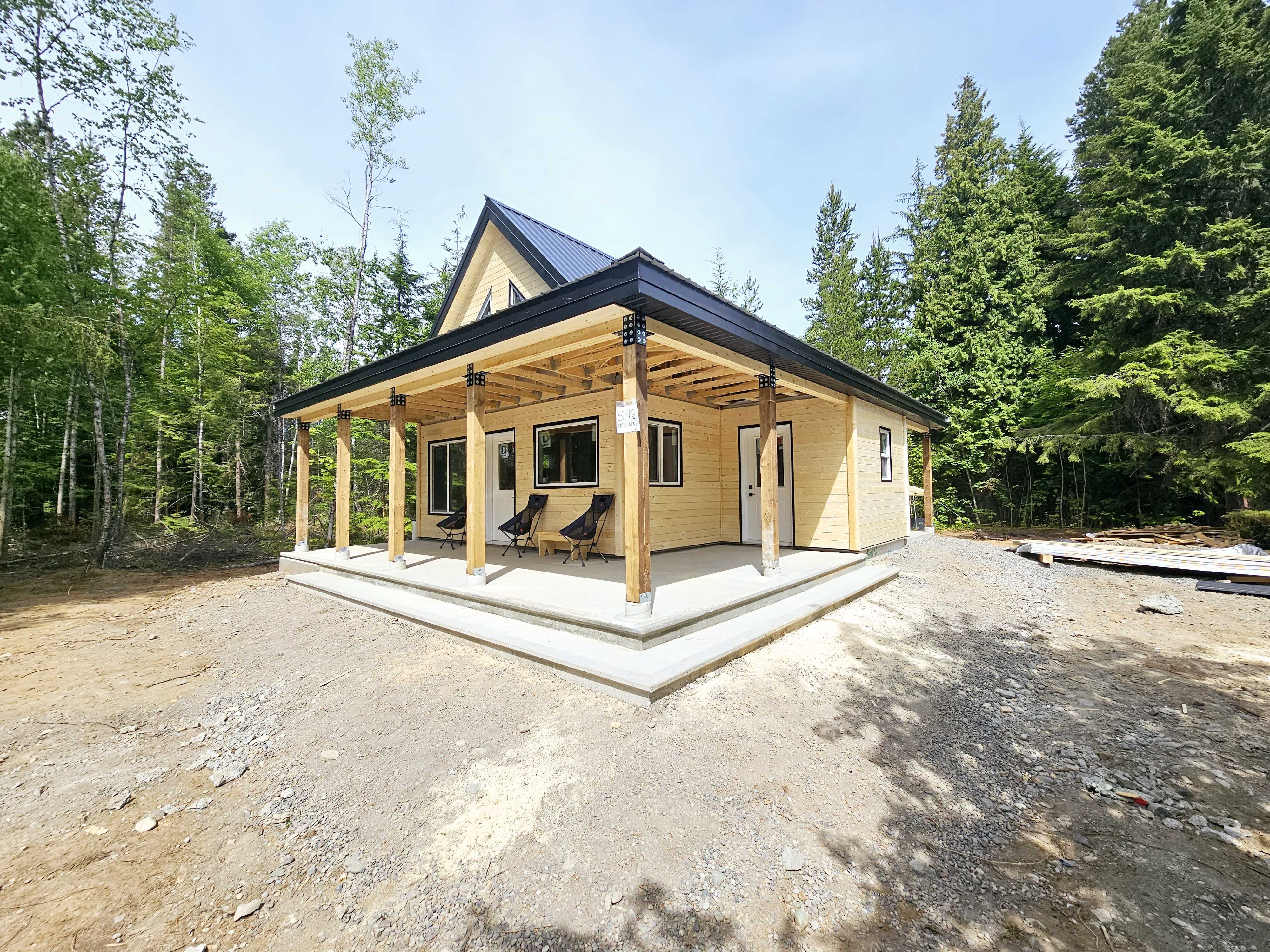 Q) What are your favourite features that you customized?
I added a full 8' covered porch all across the front AND all down one side. I love it. (that's an understatement. Lol).
I LOVE it!!!
The addition of the mudroom off the kitchen entry was a game-changer. It extends out 8×10, under the side covered porch, and is actually my main entry now. Besides being extremely useful, it adds interest to the design of the cabin from the front.
And from the back, the mudroom creates a private 8×10 covered back porch area, with its own entry to the mudroom from the backyard. I made sure there were several outlets on the back porch, and now it's a perfect out of sight spot for my e-bike!
The addition of the mudroom also meant that the original clothes closet by the kitchen (which was the original entry, and now redundant), could then become my huge PANTRY!
Windows: I changed the placement of the bathroom and bedroom windows so that when the doors are open, the two windows are opposite the doors. This draws your line of sight all the way past the bedroom, into the backyard, and creates more light and space… even from the living room/kitchen area. It's an architectural thing.
Being able to see straight out into the back makes the cabin feel bigger, and I'd way rather be able to look out and see the trees than have my line of sight stop and look at the back wall!
KPC suggested I put a transom window in the living room. Again, a great idea. It gives me privacy where the couch goes but brings in extra light.
My kitchen has a corner sink and big corner windows, and so does the living room side. I love corner windows. A personal preference: I can see all the way around.
I added a pocket door between the bedroom and the bathroom. I'm 65. Lol.
I recessed the bedroom and bathroom door, pushed the doors back two feet under the loft, to create a small alcove area. This eliminates the awkward door 'hall' into both these rooms, adds interest, and the alcove creates a feeling of a larger kitchen/living room area.
I created a small vacuum cleaner cupboard (opening out into the alcove), by partitioning off 2' from my bedroom closet. The bedroom closet will never miss it, but having an extra closet for my vacuum is fabulous.
I think that's it. 🙂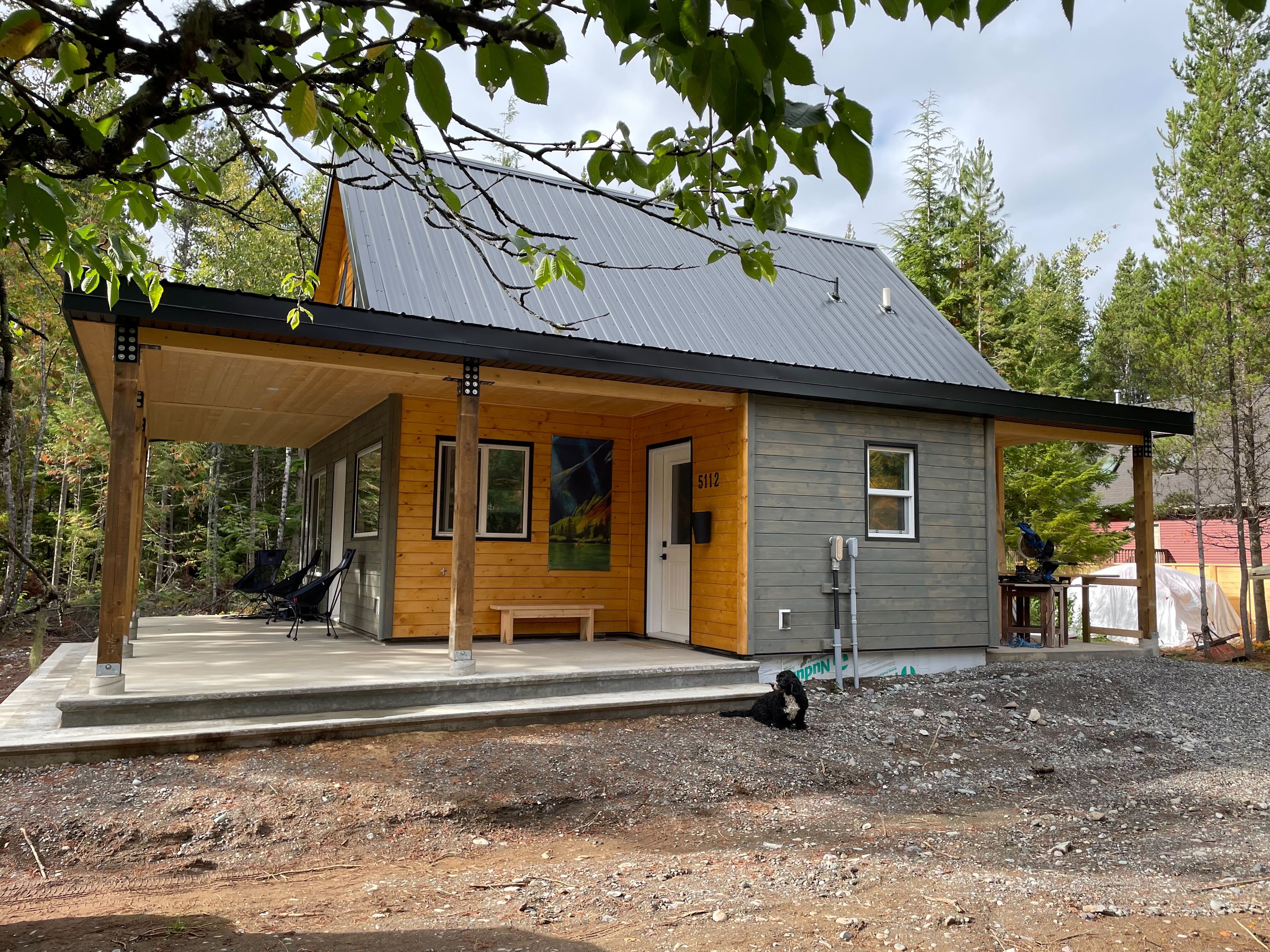 (Here's a photo while the cabin is being stained)
Q) How often do you use it?
This is my permanent home!!!! Grin!
Q) How was your experience from sales to building process?
Exciting.
Easier than I thought.
Fun.
Rewarding.
I'm so proud of my little cabin. It's everything I'd hoped for, and more.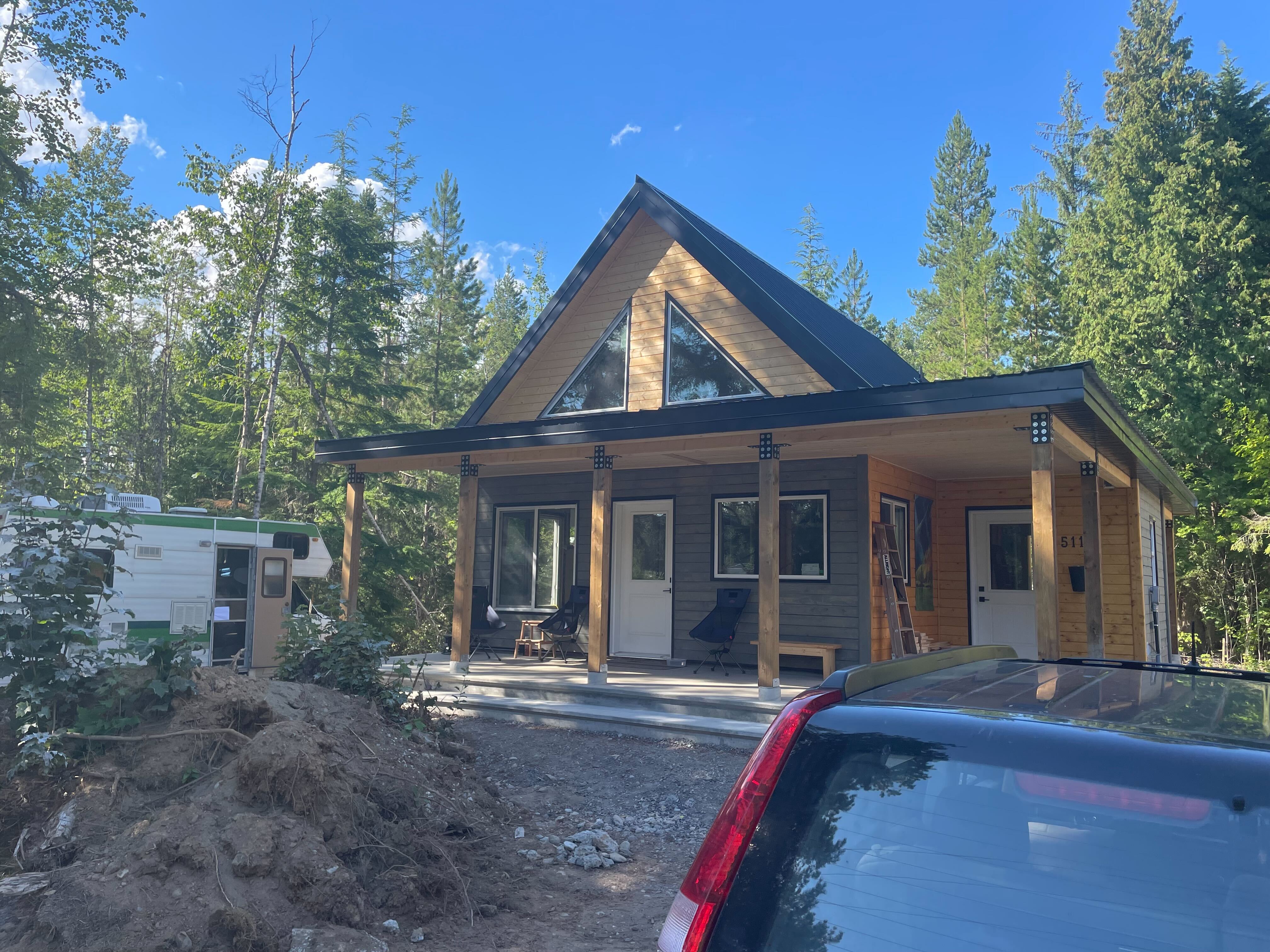 (Another photo of the staining process)
Q) Would you recommend Knotty Pine Cabins to a friend?
I would recommend this company to anyone.
Knotty Pine Cabins are knowledgeable, competent, friendly, helpful and build a great product.
…and did I mention they travelled two whole days, from Edmonton to northern BC, to frame up my cabin for me. Outstanding.
A big thank you to Jeannie for taking the time to chat about her experience!
If you are looking to build a cabin for full time living or even just those weekend getaways, give us a call at 780.484.2224!