How to Price Our Home Packages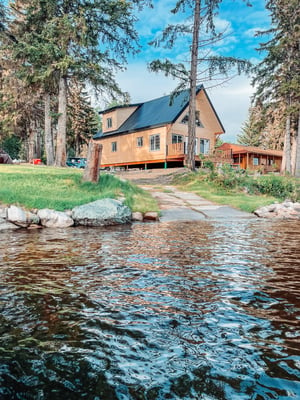 One of the number one questions we get over social media when posting a new photo of a cabin is "what's the price?" And, rightfully so! Price and quality of the product are key factors in your decision-making process. Those questions are often left unanswered over Facebook and Instagram posts and we are here to tell you why!
When you head over to knottypinecabins.ca we list the prices of our basic cabin packages and basic options. When we started over 15 years ago, most of our home and cabin packages were as simple as that! We have evolved over the years into a custom home builder and we are shipping homes across our great nation. Although many of our clients can get a rough cost estimate by looking at our site, there is a few other factors that come into play when pricing your home or cabin.

Location – Where is the cabin going? Is it close to our factory here in Edmonton or will it be in another province or country? Different provinces and municipalities within those provinces have different building codes and may require extra engineering.

Shipping Costs– These tie into the location mentioned above. The size of the home and the location determines how much and typically, how many deliveries need to be made to your site. Just a reminder: we ship our homes and cabins Canada wide and throughout the USA!

Customization & Options – no two cabins are ever the same. We may post a photo that you really like and want to know the price of; however, you may want more or fewer windows, a bungalow rather than a loft, or you may want to take on the build yourself. These factors, among many others, all come into play with a price. Without knowing any background information on what you are looking for and your location, throwing out a price is not doing either of us justice. You will undoubtedly have more questions about what is included for that price as this is an important purchase!
So, you may have read this far and thought, "That's great, but this still doesn't answer all my questions about pricing!"
Our number one suggestion is to give us a call or email us at info@knottypinecabins.ca. If we post a cabin you love and you want to know more about, send us a direct message and we can get your contact number and have one of our representatives reach out to you personally. Our knowledgeable representatives can give you pricing based on your location, size, and options and, even better, can give you a formal quote!
Whether you are in the initial planning stages or are ready to build in the coming year, we have homes and cabins to meet every budget. Please give us a call toll-free at 1 877 854 2224 and we can answer any questions you may have!