CLIENT SPOTLIGHT- BRETT & JOANN
Brett and Joann built a beautiful 24×48 Knotty Pine Cabin in 2022. The cabin is located in central Alberta with some custom features like metal siding as well as they sourced some off-grid methods like geo-thermal heating. Here's a bit more about their experience!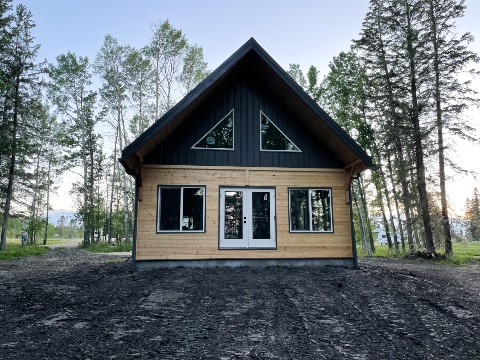 Q) What made you choose Knotty Pine Cabins to build your custom cabin?
Right from the start, talking to Alana was a great experience! We went upstairs to the loft in the show room and just fell in love with the cabin.
Q) How would you describe the quality of craftsmanship & the support received from the KPC team?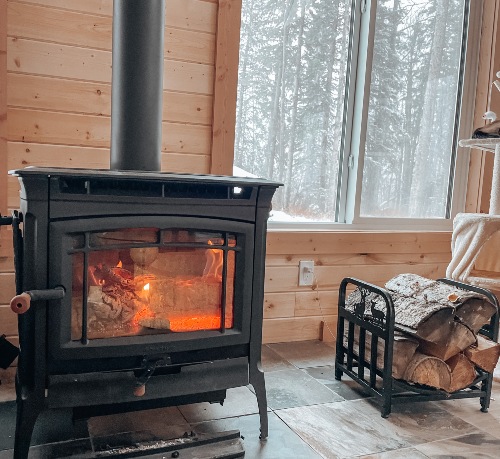 It was perfect! We had somebody build it on our behalf and it went so smoothly. Like there was not one thing went awry. We subcontracted out to build because we, ourselves, didn't have the time. There was only one issue and that was the door to the subbasement ended up being the wrong size but the team straightened it out and made it right. It was great!
Q) How long did the project take to complete?
The lumber came in April 2022 and the project was done by beginning of December 2022. We were able to use the cabin for Christmas!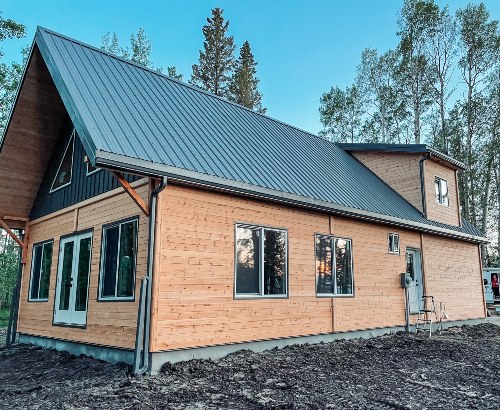 Q) What are some of your favourite features in your custom cabin?
Every time we walk into the house, the smell of the pine!
The windows- with the view.
Just the feel of it. Everything is completely open. It's lovely!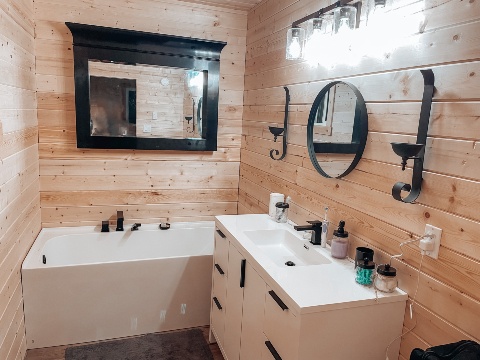 Q) How often do you use it?
Every weekend.
Q) What are your plans for your cabin in the future?
We plan to retire there. Year round living.
Q) How was your experience from sales to building process?
It was perfect. Everything went just so smoothly. As we were completing, we changed a couple of things and the KPC team was willing to accommodate and found us more windows because we didn't put those in initially. The team was always willing to work through whatever.
Q) What type of special features did you include in your Knotty Pine Project?
– Geo thermal for heat
– Glitter Putz for the backsplash in the kitchen. The product is from Italy, it's just so pretty!
– We added a little wine room closet just beside the pantry and the stairs. We use it for wine storage and for some functional storage of media and a record player etc. We put beautiful wood and glass doors in front of it. It just looks really nice!
Q) Would you recommend Knotty Pine Cabins to a friend?
Yes! Absolutely. The customer service was excellent.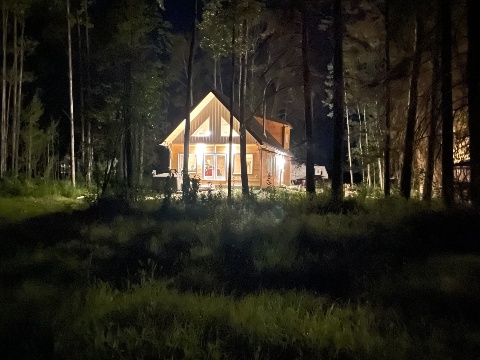 A special thanks to Brett and Joann for taking time out of their busy schedules to chat about their experience with us! If you are looking to build a similar home or you are ready to start planning the cabin life, give us a call at 780.484.2224!