Crafting Signature Cabins Since 2007
It all started when founder, Andre Depelteau, built a shed in his garage almost two decades ago. Since 2007 Knotty Pine Cabins has been building and designing custom homes and cabins across Canada and into the USA. As a true family-owned and operated business, Andre has now passed on the reigns to his daughter, Alana, and son-in-law, Jeremy, who have assisted with operations full-time since 2007. Rest assured you are in the best and most knowledgeable hands when you choose Knotty Pine Cabins as your builder! With our distinct cabin design, simple design process, customization capabilities, and dedicated customer support, Knotty Pine Cabins is the superior approach to building the perfect cabin retreat. Contact us today for a free estimate – the cozy cabin life is just a phone call away!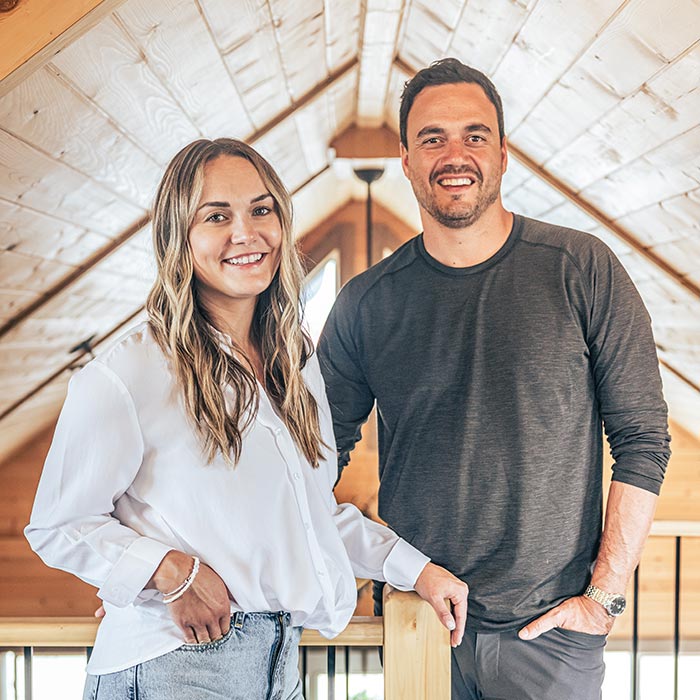 Thoughtfully Engineered for Your Lifestyle
When you choose Knotty Pine Cabins for your new home, we'll work closely with you to ensure your space is built for your specific location. Whether you're building on the lake or where the terrain is rocky, we build to suit! Our homes are the perfect choice for any purpose your lifestyle demands, and our knowledgeable and friendly staff members are available to assist you in every stage of your project. We pride ourselves on providing our clients with the highest standards in craftsmanship and cabin construction expertise. Let's discuss your cabin plans today!
Uniquely Handcrafted Cabins
Quick and Easy Assembly
Fast Turnaround Time for Every Order
Excellence in Customer Service
Cabin Building Simplified
At Knotty Pine Cabins, we are focused on designing the highest quality cabins and custom homes and delivering them directly to customers throughout Canada and across the border into the USA. Since 2007, our family-owned and operated company has established a distinguished reputation for signature cabin design, superior quality, and world-class customer service. Our rapid growth has allowed us to expand our product selection and customization capabilities while continuing to offer personalized services so customers can gain the most value out of their new cabin space from start to finish and beyond. From stock cabin packages to complete customization, our beautiful, easy-to-assemble pine cabins, private offices, workshops, guest cottages, and year-round family residences can be found in communities coast to coast. If you're ready to make your dream cabin a reality, explore our selection and get started today!